Read the full report and view the graphics here.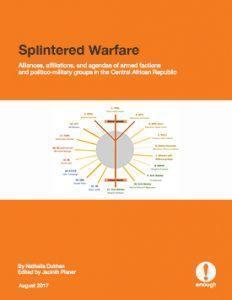 Today the Central African Republic (CAR) is home to more than 14 armed factions, a multitude of local militia groups, groups of regional mercenaries, and a national army that is in disarray. The country is essentially held hostage by armed actors with various profiles and motives. Though their origins and outward motivations may differ, these armed actors have one thing in common: they are all responsible for widespread atrocities committed against civilians, and they are all engaged in fratricidal struggles for control of the country's resources.
Central African armed factions and politico-military groups began to proliferate in CAR in 2005, mostly in opposition to the regime of François Bozizé. Since 2014, these groups have flourished, imposing a de facto partition and engaging in economic predation as part of their central strategy. By controlling large parts of the country, the leaders of these armed groups have undermined the principle of territorial sovereignty and imposed a system that benefits the leaders and the sponsors at the population's expense. This economic system is characterized by widespread looting, the trafficking of natural resources and arms, illicit taxation and extortion, a costly system of protection for people and companies, and numerous kidnappings for ransom. Driven by the power of guns, this predatory system perpetuates violence against civilians and strengthens the positions of leaders and their networks in the conflict.
In the past few months, representatives of armed groups have been invited—with all expenses paid—to the presidential palace in Bangui, to Luanda, Angola, to N'Djamena, Chad, and more recently to Rome, Italy, for peace talks. These negotiations have not yet resulted in a cessation of hostilities agreement, much less a ceasefire or a viable political process with the government of President Faustin Archange Touadéra and the myriad politico-military groups. As a result, new groups continue to emerge while others splinter into many smaller factions, further complicating peace talks.

Scroll over each group to see the full group names. To learn more about each group and see a graphic legend, read the full report.
The leaders of certain armed groups have forged varying and evolving military alliances with one another for opportunistic reasons: to increase the threat they pose to the central government and strengthen their negotiation power. Since September 2016, a coalition of various armed groups—which included ex-Séléka factions [Front Populaire pour la Renaissance de la Centrafrique (FPRC), Rassemblement Patriotique pour le Renouveau de la Centrafrique (RPRC), Mouvement Patriotique Centrafricain (MPC)] and one anti-Balaka group (led by Maxime Mokom)—has stoked sectarian violence and intercommunal tensions. "The Coalition," as it is called, has expanded its areas of control and attacked humanitarian workers, U.N. staff and armed groups like Union pour la Paix en Centrafrique (UPC) that refuse to join their alliance. Criminal groups have taken advantage of this security vacuum and flourish. Civilians pay the heaviest price in this protracted crisis.
Subsequent reports by the Enough Project and The Sentry will analyze some of these dynamics in greater detail and provide analytical tools to better understand the deep motives of the key actors involved in this armed conflict. Here we seek to briefly describe these different groups and leaders and provide an overview of their interests and motivations.
 One important note to underscore: these graphic depictions and descriptions can be considered at most a snapshot in time of the situation as it looks to the best of our knowledge as of late July 2017. The nature of the various armed groups, the alliances, the dynamics, and the political motives are not stable or permanent. On the contrary, the situation in CAR is extremely volatile. Armed factions unify, splinter, break apart partially or fully, and change leaders at a local or national level on a weekly or even daily basis.
Read the full report and view the graphics here.