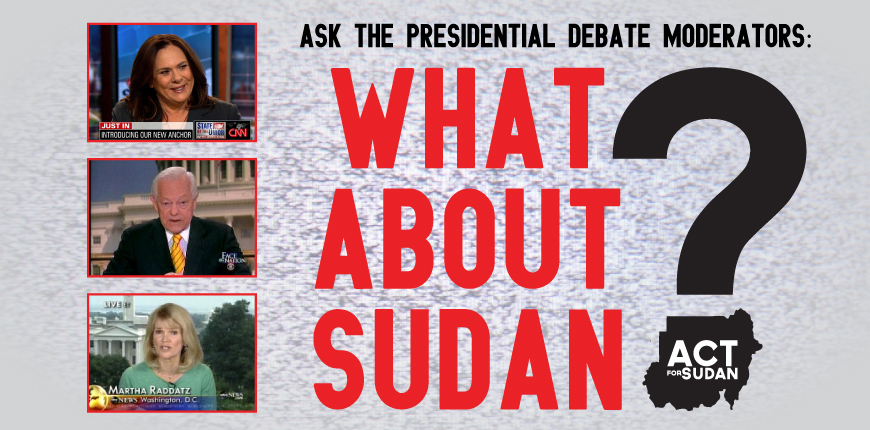 TV advertisements, home mailings, and television broadcasts for the November 6 elections are everywhere. As the candidates campaign for our votes, we, as voters, should take this time to consult different sources on where candidates fall on important issues. A source many Americans turn to is the Presidential and Vice Presidential Debate Series. As the debates air on October 16 and 22 with a focus on U.S. foreign policy, advocates will be listening to see if either President Obama or former Governor Romney will discuss the growing crisis in Sudan, the regulation of conflict minerals in Congo, and the hunt for Joseph Kony in central Africa.
A four-part series, the debates feature three rounds for presidential candidates and one round for vice presidential candidates. So far there has only been one mention of humanitarian intervention. In the vice presidential debate, moderator Martha Raddatz asked Congressman Paul Ryan to discuss his party's criteria for humanitarian intervention in issues around the world.
On October 16, the second presidential debate will be hosted by Hofstra University in Hempstead, New York. The debate will be in a town hall format, focusing on domestic and foreign policy. The Enough Project and our partner organizations want to hear more about the candidates' views on Africa's major conflicts. Here are a few ways to push them to address these issues in the debates:

WHAT ABOUT SUDAN? Our partners at Act for Sudan are sponsoring an email to be sent to the moderators of the coming debates petitioning them to ask the presidential candidates how they propose to change U.S. policy to better prevent human rights abuses in Sudan. As the situations in Darfur, South Kordofan, and Blue Nile deteriorate, U.S. foreign policy must adapt. Click here to send an email to the moderators.
STAND's National Day of Action: Gearing up for the foreign policy debate scheduled for October 22, STAND is calling upon all activists to contact moderator Bob Schieffer via email and Twitter to ask the presidential candidates to articulate what atrocity prevention would look like under their administration. And since, tweets can be ignored and emails can be deleted, STAND and United to End Genocide volunteers will also hand deliver activists' emails to Schieffer's office. Want to get involved? Click here to learn how.
HUMAN RIGHTS BINGO! As we watch the debates, let's keep track of how the candidates do on speaking to our issues. Amnesty International has designed the 'Human Rights Presidential Bingo' card to track the issues the candidates speak on during the debates. The card highlights issues such as free speech, arms trade, and poverty. Click here for a Bingo card.
As the debate series continues, we at the Enough Project hope you tune in and take action, starting tonight.