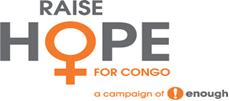 For Immediate Release
July 2, 2009
Contact
Eileen White Read, 202.741.6376
[email protected]
RELEASE: Julianne Moore, Juliana Margulies, Brooke Smith, and Ken Baumann Join Enough's RAISE Hope for Congo Campaign
WASHINGTON, D.C. – Film star Julianne Moore and actresses Juliana Margulies and Brooke Smith are featured in a new video to promote Enough's RAISE Hope for Congo campaign aimed at connecting the sale of "conflict minerals" from the Democratic Republic of the Congo with the worse violence in the world against women and girls. The video is available here.
To raise awareness about the Congo crisis, actor Ken Baumann from the television show "The Secret Life of the American Teenager" hosted castmates Daren Kagasoff, Camille Winbush, and Renee Olstead, along with dozens of other young Hollywood actors, at a consciousness-raising event at the Hollywood restaurant and club Jane's House.
Guests included AnnaLynne McCord of "90210" and "Nip/Tuck," Selena Gomez of "The Wizards of Waverly Place," and Emmanuelle Chriqui of "Entourage." Ms. Chriqui was featured in a video supporting RAISE Hope for Congo earlier this month.
"In order to make Congo's conflict minerals the next 'blood diamonds' campaign, we are going to need recognizable faces helping to spread the word. Talented actresses such as Julianne Moore, Juliana Margulies, and Brooke Smith will help seed the ground for greater pressure on our government and electronics companies to step up and help end the violence against women and girls in the Congo," said John Prendergast, the Enough Project's Co-founder. Prendergast attended the Baumann event in Los Angeles.
The videos are part of an initiative created by Enough, the anti-genocide project at the Center for American Progress, in partnership with YouTube™. The partnership's Come Clean 4 Congo video contest is empowering individuals to create compelling messages that highlight the link between conflict minerals used in cell phones and the war in the Democratic Republic of the Congo – the deadliest since World War II.
Judges for the contest are Oscar-nominated actor Ryan Gosling, actress Sonya Walger from ABC's "Lost," and Oscar-nominated director Wim Wenders. Following tomorrow's deadline for submissions, the celebrity judges will narrow their favorite videos down to three. Then the public will be asked to vote for the winner. The creator of the winning video will be flown to Los Angeles, where the video will be screened at an entertainment industry event; it will also be featured on the Enough Project's websites and YouTube page. More information on the contest is at www.youtube.com/enoughproject.
Visit the Enough Project's blog, Enough Said, for updates on this issue. Follow The Enough Project on Twitter; http://twitter.com/enoughproject.
###
The Center for American Progress is a nonpartisan research and educational institute dedicated to promoting a strong, just and free America that ensures opportunity for all. We believe that Americans are bound together by a common commitment to these values and we aspire to ensure that our national policies reflect these values. We work to find progressive and pragmatic solutions to significant domestic and international problems and develop policy proposals that foster a government that is "of the people, by the people, and for the people."
Enough is a project of the Center for American Progress to end genocide and crimes against humanity. Founded in 2007, Enough focuses on crises in Sudan, Chad, eastern Congo, northern Uganda, Somalia, and Zimbabwe. Enough's strategy papers and briefings provide sharp field analysis and targeted policy recommendations based on a "3P" crisis response strategy: promoting durable peace, providing civilian protection, and punishing perpetrators of atrocities. Enough works with concerned citizens, advocates, and policy makers to prevent, mitigate, and resolve these crises. The RAISE Hope for Congo campaign aims to build a permanent and diverse constituency of activists advocating for effective change in eastern Congo, including an end to the long-running conflict and the resulting sexual violence against women and girls, and reforms to reduce trade by rebel groups in conflict minerals. To schedule an interview, please contact Eileen White Read at [email protected]; phone 202 641 0779.
If you would rather not receive future email messages from Center for American Progress, let us know by clicking here.
Center for American Progress, 1333 H St. NW, Washington, DC 20005-4707 United States