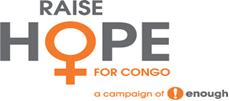 For Immediate Release
July 2, 2009
Contact
Katie Andriulli, Campus Progress
202.481.8238, [email protected]
Eileen White Read, The Enough Project
202.741.6376, [email protected]
ADVISORY: Good Charlotte's Joel and Benji Madden To Discuss 'Conflict Minerals' Mining in Congo with Enough Project's John Prendergast
WHEN: Wednesday, July 8, 2009
WHAT: Panel discussion on war and violence caused by mining of 'conflict minerals' in Congo
WHO: Joel and Benji Madden of Good Charlotte; John Prendergast of the Enough Project
WHERE: Omni Shoreham Hotel, 2500 Calvert St NW, Washington, D.C. 20008
WASHINGTON, D.C. — Joel and Benji Madden, leaders of the band Good Charlotte, will speak at the Campus Progress National Conference in a discussion with human rights activist John Prendergast, Co-founder of the Enough Project, a project at the Center for American Progress to end genocide and crimes against humanity. The discussion will focus on how young people can become activists on the issue of "conflict minerals." These minerals are mined in the Democratic Republic of the Congo and used universally in small electronic devices like cell phones – and they are fueling a deadly war and an epidemic of sexual violence in central Africa.
Joel Madden, a UNICEF Goodwill Ambassador, and his brother Benji Madden traveled to the Central African Republic with UNICEF last fall to witness the devastating impact that conflict and poverty has had on the region. The Madden brothers have been involved as "Enough Envoys" for Enough's RAISE Hope for Congo campaign since last fall, raising awareness about the crisis at their concerts, creating public-service announcements, and advocating for change in meetings with lawmakers on Capitol Hill.
Prendergast also will present a short film clip highlighting the Darfur Dream Team's Sister Schools Program, an effort by Enough and partners including the United Nations High Commissioner for Refugees to support schools at Darfuri refugee camps.
The annual Campus Progress National Conference has become a central hub for organizing by young progressives. With record youth turnout in the 2008 presidential election, and young people strongly oriented toward progressive views on the issues, this year's conference will discuss the millennial generation's opportunity to deliver change and move the country in a progressive direction while developing the ideas, networks, and innovations to meet challenges ahead. As previously announced, former President Bill Clinton will deliver keynote remarks at the conference. White House green jobs adviser Van Jones and "The Daily Show" writer and correspondent John Oliver will also address the gathering.

The Campus Progress National Conference is flanked by other events: On Tuesday July 7, there will be a Journalism in Action training day for budding young journalists, as well as a Grassroots Training Day run by Campus Camp Wellstone. On Thursday July 9, Campus Progress and The Nation magazine will hold their annual Youth Journalism Conference, which will include remarks by Dahlia Lithwick of Slate, Air America Radio's Ana Marie Cox, and The Nation's Katrina vanden Heuvel and Chris Hayes. A Lobby Day co-sponsored by Health Care For America Now, Energy Action Coalition and the Student PIRGs will also be held on July 9, with young people visiting their elected officials to demand action on health care reform, green job creation, and making higher education more affordable.
All members of the press must RSVP to attend this event, and will be asked to present proper credentials on site. To RSVP, please click here.

For any questions or additional information about the Campus Progress National Conference, please contact Katie Andriulli at [email protected] or 202-481-8238.

For questions related to the Enough Project or the RAISE Hope for Congo Campaign, please contact Eileen White Read at [email protected] or 202-741- 6376.

###
Campus Progress is the youth division of the Center for American Progress, a nonpartisan, nonprofit progressive organization. Through programs in activism, journalism, and events, Campus Progress helps young people make their voices heard now on issues that matter, and works with young leaders and organizations nationwide to build a strong, united progressive movement that can bring long-term positive change. Campus Progress runs a daily web magazine, CampusProgress.org; supports student publications on 50 campuses; supports local and national youth issue campaigns; and has held over 700 events and film screenings. For more information, please visit Campusprogress.org.
Enough is a project of the Center for American Progress to end genocide and crimes against humanity. Founded in 2007, Enough focuses on crises in Sudan, Chad, eastern Congo, northern Uganda, Somalia, and Zimbabwe. Enough's strategy papers and briefings provide sharp field analysis and targeted policy recommendations based on a "3P" crisis response strategy: promoting durable peace, providing civilian protection, and punishing perpetrators of atrocities. Enough works with concerned citizens, advocates, and policy makers to prevent, mitigate, and resolve these crises. To learn more, visit www.enoughproject.org.