SACRAMENTO — A committee of the California State Senate passed a bill Tuesday that will curb the use of conflict minerals from Congo. The unanimous, bi-partisan vote in the Governmental Organization Committee is an important first step to making California the first conflict-free state.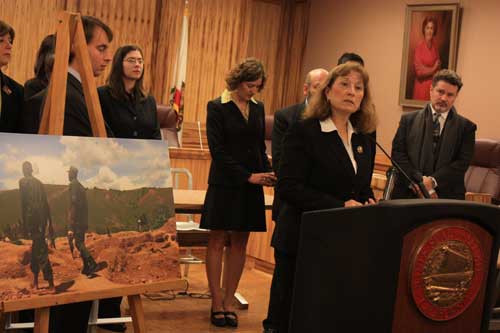 Photo: Matt Brown/Enough
If it passes the full assembly, the bill would prohibit the state government from contracting with companies that fail to comply with federal regulations on conflict minerals. Those regulations, laid out in last year's Dodd-Frank financial reform act, require publicly traded companies to disclose whether they use minerals from the Congo and the steps they are taking to make sure the minerals are not funding mass atrocities.
David Sullivan, Enough Project's Director of Research, testified before the State Senate committee. He said:
The link between the war in eastern Congo, the deadly trade in conflict minerals, and the use of these minerals in electronics and other high-tech industries has been well understood for a long time. In fact, the first major UN report on this issue was released 10 years ago today, on April 12, 2001. But for most of this decade, companies were content to accept vague assurances from their suppliers about the provenance of their minerals, allowing conflict minerals to continue to flow into international markets, and into our cell phones and laptops. Only in the last two years have we begun to see concrete action from companies. This is a direct result of consumer pressure and federal legislation.
The growing push for legislation at the state and local level is giving teeth to the federal conflict mineral regulations by providing companies financial incentives to comply with the federal law, Sullivan said.
"This bill will incentivize further action, by using California's commercial clout as a purchaser to reward companies that source responsibly and impose a tangible cost on those that the Securities Exchange Commission determines to be in violation of federal law."
Senate Majority Leader Ellen Corbett (D-San Leandro) introduced the bill, which received support from a wide range of human rights organizations. Groups participating in a lobby day in advance of the hearing included Enough, Jewish World Watch, STAND and ICAR.