Screening of War Child at the Capitol Visitor Center
Date: Wednesday October 7, 2009
Time: 6:00 p.m. – 9:30 p.m.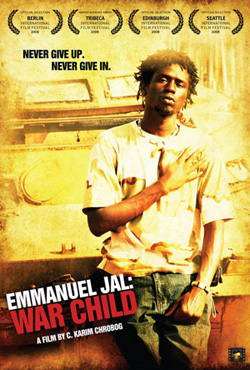 Enough, the anti-genocide project at the Center for American Progress, invites you to a film screening with honorary co-hosts Representative Donald M. Payne (D-NJ) and Representative Frank Wolf (R-VA), featuring the award-winning documentary War Child. Winner of the 2008 Tribeca Audience Choice Award, the 2008 ABC News Video Award, and the 2008 Crystal Heart Award, War Child is about the life of a Sudanese child soldier turned international rap artist Emmanuel Jal.
"Interspersing live concerts, rare footage of Jal as a boy, and interviews with leading Africa experts, War Child will make viewers cry, laugh, dance, and celebrate the power of hope. Come see why audiences from New York to Berlin, from London to Abu Dhabi have raved about the award-winning film directed by C. Karim Chrobog. Viewers will follow Emmanuel on a concert/ activist tour through the United States and then return with him to Sudan on a quest to find his reunite with his family and learn what has happened to his homeland and his fellow child soldiers. Along the way, we visit Nairobi's sprawling slums, Kenya's vast refugee camps, South Sudan's lucrative oil fields, and many other locations that have played a pivotal role in Emmanuel's life."
The event will include a short reception, opening remarks by Representatives Payne and Wolf, a screening of War Child, and a panel led by the Enough Project Co-founder John Prendergast and Mr. Chrobog.

Featured Panelists
Karim Chrobog, Director of War Child
John Prendergast, Co-Founder of the Enough Project
RSVP
Location
Capitol Visitor Center – Congressional Auditorium Atrium U.S. Capitol
East Front of the U.S. Capitol, entrance at East Capitol and First Street
DIRECTIONS FROM VISITOR CENTER MAIN ENTRANCE – FIRST STREET:
Proceed through the First Street NE secured entrance. Once past security, pass through the double doors. Past the doors, in the entryway vestibule, make a u –turn (facing away from Emancipation Hall) and walk through an additional set of doors. Walk down the staircase to the lower level marble atrium. This is the Congressional Auditorium Atrium.
To enter the Congressional Auditorium, walk down stairs into the lower atrium. Take either the right or left hallways into to the Auditorium doors.
Map